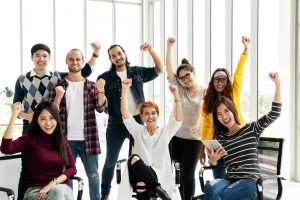 For those learning Japanese, it's sometimes difficult trying to find good ways to learn the language effectively, as well as finding a school that fits each individual's needs.
Hideyuki Kondo, director of Tsubasa Japanese Language School and an experienced Japanese teacher, has some useful advice for those aspiring to visit Japan and learn the language. "Any Japanese language textbook is fine," he said. "They are all designed to give a comprehensive understanding of an otherwise complicated language. But one doesn't satisfy oneself by putting that CD on auto repeat and listening to Japanese phrases in the textbook like ambient music."
"What I encourage students to do is to use what they have learned — as much as they can. When they learn a new phrase, they should read it out loud. People should write phrases down, watch television or YouTube or listen to pop songs to find those phrases used in different situations and try making sentences with them."
Tsubasa means wings in Japanese, and the all-Japanese lessons given at the school by experienced native teachers will give students the wings of words to enjoy their time to the fullest in the land of the rising sun.
Of special note is that Tsubasa Japanese Language School takes a communicative approach. The curriculum allows students to quickly try out what they have learned. Students have in-room time to practice newly learned phrases with teachers and fellow students. There are excursions to get out in the city to talk with locals, which is a valuable "in the flesh" contact with Japanese. The school introduces not only the traditional culture of Japan, but also everyday life; students learn about everyday food and the latest pop culture. "Be it manga or J-pop, make use of everything that draws your attention," said Kondo. "Pick up the words and practice your phrases from what you want to know. It only makes your understanding better."
The school offers classes of up to four weeks. Students living in Oakhouse accommodations across downtown Tokyo are eligible for discounts on rent once they enroll in a class. Students can take two 60-minute lessons for five days per week on weekdays, then spending the weekend visiting tourist spots and making use of the language. One- and two-week courses start on the first and third Mondays, while three- and four-week courses start on the first Monday of the month.
The time spent with a class of students from many different parts of the globe, who have gathered under the common interest of learning Japanese, can be a wonderful experience. Visit the school's website at https://www.tsubasa-jls.com/en/ or call the office at 03-6869-1508 (Monday to Friday, 10 a.m. to 6 p.m.) for more details or to enrol.
---
<Contact Information>
Tsubasa Japanese Language School
Address: 1-9-7-1015 Kita-Shinagawa, Shinagawa-ku, Tokyo
TEL:     03-6869-1508
E-mail:  info@tsubasa-jls.com
Website: https://www.tsubasa-jls.com/en/