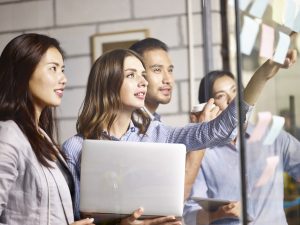 The number of foreign workers in Japan has been increasing each year. In this context, one may ask: What kind of Japanese language level does one need to attain work in a Japanese company?
The Japan Times interviewed the manager of the academic affairs section from KAI Japanese Language School, which has operated beginner to business-level Japanese classes for more than 30 years in the bustling Shinjuku area near Shin-Okubo Station.
The school teaches beginner to business-level Japanese to foreigners. Based on the experience of providing many business Japanese courses for corporate clients, KAI Japanese Language School has advanced courses perfect for those looking to land jobs in Japan.
Shiano Oyama, academic affairs section manager at KAI Japanese School, says that most companies in Japan ask for N2 or N1 level of the Japanese Language Proficiency Test (JLPT) to their candidates. The Business Japanese Test (BJT) J2 level, equivalent to JLPT N2 and N1, is another popular choice. "Company recruitment staff will see this proficiency as a starting point, but will also be looking for something more than Japanese skills. The candidate is expected to have the ability to communicate across different cultures, and the interview would be the best situation to demonstrate just that," Oyama said. During Japanese interviews, people need to show communication and cooperative skills in their exchanges; these are Japanese skills that one can not attain from studying just for JLPT and BJT.
Oyama added that after starting the job, one will realize quickly what kind of Japanese language skills one needs to improve. Japanese language challenges may be understanding and explaining product and industry knowledge, reading and writing highly abstract content, or communicating with co-workers in "real" Japanese, among others. KAI Japanese Language School caters to those advanced needs to become a business professional and enjoy developing a career in Japan.
People will find out soon after starting their studies that they need to continue studying according to the industry or job, as the Japanese skills needed vary depending on the type of job.
"Those who have blooming careers in Japan obviously have kept studying," Oyama said. "We offer private classes as well as bespoke on-site classes for companies that consider the need to continue their employees' Japanese studies seriously. Those who are good at observing and finding out what they need to excel at their jobs, and those who keep studying certainly grow."
The general course, a full-day curriculum providing beginner to advanced level courses that includes the Business Japanese Program catered to those who would like to attain skills to work in a Japanese company. The school sponsors student visas for general course students.
Advanced Japanese classes at KAI Japanese Language School cover whatever necessary for landing the dream job in Japan. For example, the school even provides CBL (Community Based Learning) where the students conduct cooperative projects with organizations in Japan and workshop-type lessons conducted by teachers and human resources agents. In addition, it provides real-life tips and advice in and outside the classroom. Practical advice is also given individually.
---
<Contact Information>
KAI Japanese Language School
Address: Miyuki Bldg., 1-15-18, Okubo, Shinjuku-ku, Tokyo 169-0072
TEL:     03-3205-1356
E-mail:  admission@kaij.co.jp
Website: http://en.kaij.jp/