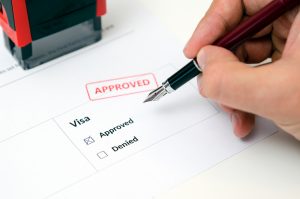 The first step to studying at a Japanese language school is acquiring the appropriate visa. The application procedures may appear daunting at first glance, but language schools provide support along the way, allowing prospective students to embark on their language-learning journey as smoothly as possible.
Temp and working holiday visas

A temporary visitor visa may be sufficient for those who are looking for short-term study. Commonly referred to as a "tourist visa," a temporary visitor visa permits visitors to reside in Japan for 90 days, enabling prospective students to attend a single course before returning to their home country or departing to their next destination.
Japan has agreements with many countries — including the U.S., Australia and many European countries — that exempt their citizens from needing to apply for a temporary visitor visa before coming to Japan. It's important to note, however, that temporary visitor visa holders are subject to restrictions during their stay, and are not able to work part time or open a Japanese bank account.
If their home country has a working holiday agreement with Japan, prospective students may study at a Japanese language school under a working holiday visa. Unlike holders of a temporary visitor visa, holders of a working holiday visa are not subject to restrictions concerning work hours and can open accounts at certain banks.
Long-term student visas

Prospective students who intend to study long term should apply for a student visa, which permits visitors to study at a Japanese language school for up to two years and can be extended further if they continue their studies at a Japanese university or vocational school. Holders of a student visa can open a Japanese bank account and, upon submitting a separate application to the Immigration Bureau, work up to 28 hours per week.
The documentation needed to apply for a student visa depends on the applicant's nationality, but generally consists of documents that indicate the applicant's academic background and financial situation. Most Japanese language schools help streamline the application process by informing prospective students of the required documents and applying for a certificate of eligibility (COE) — a document that indicates the applicant's eligibility to apply for a visa — on their behalf. It generally takes four to six weeks for the Immigration Bureau to issue a COE, whereupon the language school will send the certificate to the applicant, who will then apply for a visa at a Japanese embassy or consulate in their home country.
Once the Japanese embassy or consulate approves the visa application, the applicant will need to enter Japan within three months from the COE issue date. Upon arriving in Japan, the applicant will receive their residence card at the airport, concluding the visa acquisition process.
Acquiring a student visa can be a relatively lengthy process and prospective students are encouraged to apply well in advance of their intended arrival. However, with Japanese language schools helping along the way, applicants can rest assured knowing the beginning of their language-learning adventure is just around the corner.
---
Below is a list of Japanese language schools sponsoring student visas.