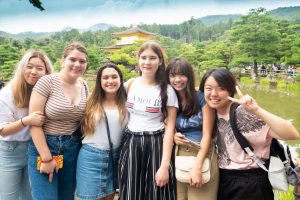 Attending a Japanese school during the holidays in Japan is beneficial for students and workers who have limited time to spare. Students can use their school breaks and workers may use their paid leaves to visit Japan and learn Japanese.
Starting with a short stint will also help those who are looking into a longer study abroad experience, but have reservations about staying for an extended period in Japan. A short stay may help give a feel for what it would be like to live in the country, find schools and to plan and prepare for a longer stay in the future.
"Those new to the language may be able to read and write hiragana, and talk about oneself and the surroundings in simple Japanese in two weeks," said Koji Ogawa, the academic affairs section chief at Kudan Japanese Language Institute. "After three months of study, the person can converse with others about everyday things. For those who have studied Japanese back home, the stay will boost their confidence in applying the knowledge and skills they learned back home in actual interactions."
Studying Japanese outside Japan will allow one to gain knowledge of the Japanese language, but not so much using it. Utilizing various media outlets to find out how the words and phrases are used in real life will increase the effectiveness of one's studies.
The most compact courses the school offers are two weeks long, with one term or level typically comprising around three months of classes.
"We also provide students with opportunities to learn about Japanese culture in addition to the language," Ogawa said. "Homestay programs to experience Japanese life firsthand with a host family, as well as tea ceremony, kimono and sushi-making classes, are some examples of the popular programs among the many other extracurricular programs that are very popular among students.''
The holiday courses where Japanese classes and extracurricular programs are combined include the Manga Course, which combines Japanese classes with manga-drawing classes and has been completed by about 100 students from 37 countries. Another program is the Cooking Course where students learn the language while preparing Japanese cuisine such as sushi. The courses are available as package plans for short-stay travelers.
"We are held in high regard for these courses that allow students from various countries to fly in and spend a short, but immersive time in Japan studying the language and culture," Ogawa said.
---
<Contact Information>
Kudan Institute of Japanese Language and Culture
Address: Teitomisaki Building1F, 2-7-10, Kandamisaki-Cho, Chiyoda-ku, Tokyo
TEL:     03-3239-7923
E-mail:  info@kilc.co.jp
Website: https://www.kudan-japanese-school.com//en/