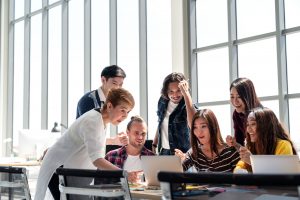 If non-Japanese want to strengthen their Japanese language skills and network with professionals, what are some of the ways to make this possible?
The Japan Times interviewed Nichibei Japanese Language Institute (JLI) staff member Yuta Shibano, who supports students at the school, on the specific topic. JLI has existed for more than half a century and is located near JR Yotsuya Station.
Shibano says that Japanese skills required to work in Japan may vary by industry.
"For service and IT industries, the required level would be N3 to N2 of the Japanese Language Proficiency Test (JLPT). For sales and other clerical work, it would be N1 and higher. Companies would expect enough fluency to interact with Japanese natives, such as clients and colleagues, for those aspiring sales and other clerical jobs," he said.
"Corporations that have branches in and out of Japan welcome foreign staff who have diverse backgrounds as well as high Japanese fluency. The diversity part is what makes non-Japanese businesspeople desirable."
Founded in 1967, Nichibei Japanese Language Institute is a sister school to the well-known English school Nichibei Kaiwa Gakuin. The school's parent body, International Education Center (IEC), has been running the International Speech Contest in Japanese since 1960.
The school is said to be one of the first candidates for many corporations in Tokyo for language training their international staff, and both the quality of teachers and original course material designed for learning practical Japanese are highly regarded by students. Videos of these courses can be seen on the JLI website.
JLI offers classes from beginning to advanced levels and provides three programs for businesspeople from overseas, as well as their family members and trainees.
Several different programs attain to students' needs — the Regular Program, Part-time Program and, upon request, private lessons and corporate training.
JLI provides Private Lessons on daily and business Japanese, including presentation practice and business negotiations. It offers the best opportunity to learn about Japan and the tools to interpret different cultures — all in Japanese — which can instantly be applied to business.
With students from various background and companies, break time and group work often become opportunities for networking and exchanging information. JLI's career support class also gives ideas on working culture in Japan with advice from people working at companies in Tokyo.
JLI has spring, summer, fall, and winter terms. The full-time Regular Program is comprised of two courses: a Short-term Course that runs for three months and can be taken with any visa, and a two-year General Course that requires a student visa. Part-time classes last three months.  Those interested can participate in a trial lesson, where they observe a single lesson from either a Regular or Part-time Program. A teacher will conduct a level check before this trial.
---
<Contact Information>
Nichibei Kaiwa Gakuin, Japanese Language Institute
Address: 1-50 Yotsuya, Shinjuku-ku, Tokyo
TEL:     +81-3-3359-9600
E-mail:  jli-info@nichibei.ac.jp
Website: https://www.nichibei.ac.jp/jli/